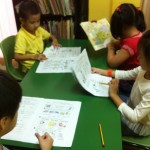 Our Reading Program is designed by educator experts who have many years' experience as teachers and writers specializing in the area of reading. To ensure these young learner's mastery of basic skills critical to academic success. Our worksheets guide the child step-by-step through a variety of enaging and challenging activities.
Our program is also designed to take these young learners from the pre-readiness stage through to the first year of primary school. Using contemporary approach to learning fundamentals through real-life applications, excellent tools will be introduced to prepare your young learners for proficiency testing and school success.
Objectives of our Reading Program:
Develop a curiosity of words: what they are made up of, how they sound, or are pronounced, and how they are used.
Expand their vocabulary and use it meaningfully.
Read and appreciate rhymes.
Gain an understanding of the elements of narratives, including main characters and events.
Read out and carry out instructions, as well as make use of the information in non-fiction texts.
The Reading Skills to be taught to our readers are as follows:
Letter-sound correspondence
High-frequency site words
Writing and ordering the alphabets
Long and short vowels and blends
Nouns, verbs and adjectives
Homonyms
Making sentences
Picture and context clues
Cause and effect
Following directions
Reading comprehension
Please contact us at 9617-8574 
email us:   justenrichment@live.com

for more details