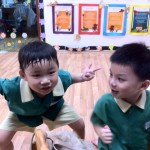 Fingers Maths is a fast and effective method of calculation that uses both hands and both sides of the brain. It allows children aged 5 to 12 yrs olds to do speed calculations in addition, subtraction, multiplication and division. At the same time, it enables the development of both the left and right brains too.
It helps to enhance the development of a child's thinking, memory and the potential abilities of the child.
    Our Objectives:
~~

Whole Brain Training
  Through the use of both hands, Finger Math stimulates the development of the whole brain, as the left hand trains the use of the right brain and vice versa. As such, it balances the development of both the left and right brains and improves the memory and thinking skills of the brain.
~~
Memory Skills Development
     The training process of Finger Math helps to improve the brain's memory ability and increase the reflexes ability.
     From
visual memory, listening memory, linking memory, action memory, impression memory, comprehension memory

to long term memory and accuracy, the learning process will help to train the different areas of memory in depth at the same time too.
~~ Character Development
        The program helps to cultivates a child's confidence  and encourages  independent thinking and creativeness.
~~ Thinking Skills
        During the learning process of Finger Math, the use of the fingers will developed the physical imaging thinking skills (right brain & both hands); The combined use of both hands and both  sides of the brain will help in training the spatial thinking ability, logical thinking skills and increase the child's ability in understanding and analysing information.
~~ Multi-Intelligence Training
        Finger Math encompasses the concept of muti-intelligence training in the development of its programs. Using games, stories, music, it trains a child language ability, coordination of the senses, spatial knowledge, mathematical logic, etc. It also helps to build a child's observation, imaginative, creativity skills and problem solving skills.
~~ Concentration Improvement
        It improve a child's concentration skills, which in turn will help to improve their academic results too.
Please contact us at 9617-8574 
or  email us:   justenrichment@live.com
for more details